Guarantee
I will give you 6 FULL MONTHS to decide if this product is right for you!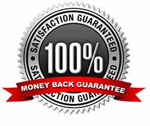 If for any reason you are not completely 100% thrilled with the results of Dr. Amend's Pheromone Advantage, I will buy it back from you - No questions asked!  Simply return the unused portion of the bottle(s) with the same contact information used to order the product and we will gladly refund the purchase price including the original shipping.  We do ask that you pay for return shipping back to us.

All The Best!


Dr. Virgil A. Amend D.C.
P.S. Let me tell you a little secret. Even though I have always offered this exceptional return policy, only 1 percent of our customers actually return the product.  Personally, I think that number speaks volumes about how our very important customers like you feel about the results they receive.

E-Mail: support@pheromoneadvantage.com
Voice: 800-685-1902
Address: 11841 W. O'Neil St., Wichita, KS  67212
[maxbutton id="1"]